U.S. Stocks Decline Amid Earnings Results From JPMorgan, Intel
U.S. stocks retreated for a second day, with investors anxious about corporate profits as Wal-Mart Stores Inc. predicted earnings will decline next year and quarterly results from JPMorgan Chase & Co.
disappointed.
Wal-Mart tumbled the most in 27 years, while JPMorgan slid 2.5 percent after cautioning that trading this quarter is off to a tepid start. Boeing Co. sank 4 percent to lead industrials lower. Commodity shares, pillars of the equity rebound from a third-quarter slump, rose as a measure of the dollar hit a three-month low. Netflix Inc. fell in late trading after reporting weaker-than-estimated subscriber growth.
The Standard & Poor's 500 Index slipped 0.5 percent to 1,994.24 at 4 p.m. in New York, marking its first back-to-back declines in more than two weeks. The Dow Jones Industrial Average sank 157.14 points, or 0.9 percent, to 16,924.75. Declines in Wal-Mart and Boeing together clipped about 85 points off the index. The Nasdaq Composite Index lost 0.3 percent. About 6.9 billion shares traded hands on U.S. exchanges, 5.5 percent below the three-month average.
"Wal-Mart's sizable reset of expectations has shaken the overall market with general concern about both U.S. and global growth," said Chad Morganlander, a money manager at Stifel, Nicolaus & Co. in Florham Park, New Jersey, which oversees about $170 billion. "Investors are reconsidering their future forecasted growth rates for S&P earnings."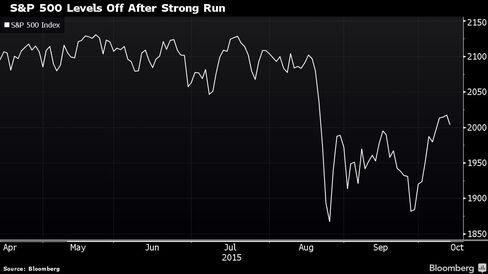 Wal-Mart's tumble sent equities lower after shares had fluctuated in early trading. The S&P 500 has lost momentum after its strongest week since December as investors look to earnings season for a better gauge on the outlook for corporate profits. The index has gained 3.9 percent this month, and is up 6.8 percent from an August selloff closing low as it fights back from the worst quarter since 2011.
Netflix reported third-quarter U.S. subscriber growth that missed analysts' estimates as the introduction of new chip-based credit cards cut off some customers. Profit also fell short as the company sped up the recognition of some programming costs. Shares of the online video service, the top-performing stock in the S&P 500 this year, fell 7.4 percent after hours.
Analysts project profits for S&P 500 members dropped 7.2 percent in the third quarter. Goldman Sachs Group Inc., Citigroup Inc. and UnitedHealth Group Inc. are among 16 companies in the index due to report results on Thursday.
Asian and European shares slipped today after a report showed China's factory gate deflation extended a record stretch of declines while inflation moderated. Weak imports data out of China helped send the S&P 500 lower yesterday.
Retail Sales
U.S. data today showed retail sales in September rose less than forecast as Americans increased their savings. Sluggish sales may raise concern about whether the staying power of consumer spending, which accounts for about 70 percent of the economy, at a time overseas demand is also cooling. A separate report showed falling energy costs damped wholesale inflation, as the producer price index decreased the most since January.
"This Wal-Mart news is an opening shot when it comes to the growth story right now," said Mark Kepner, an equity trader at Themis Trading LLC in Chatham, New Jersey. "This on top of the retail sales numbers which were fairly weak to begin with. Growth is a worry already, globally. Companies that are going to be reporting earnings or commenting on earnings with slowing growth are going to be hit pretty hard."
Federal Reserve officials last month left interest rates unchanged, opting to monitor the risk that China's slowdown could spill over to the U.S. After today's data from both China and the U.S., traders are now pricing in a 29 percent chance the central bank raises rates this year, while odds of a March increase are about 49 percent, down from 62 percent on Monday.
Fed Governor Daniel Tarullo told CNBC yesterday that he doesn't currently favor raising rates in 2015. That lines him up with fellow Governor Lael Brainard, who made the case on Monday for patience, and diverges from the majority of Federal Open Market Committee members including Chair Janet Yellen.
The central bank's Beige Book report on regional economic conditions released today showed the economy grew modestly with little inflation pressure from mid-August to early October as a strong dollar weighed on manufacturing and tourism. Six of the 12 Fed districts called the expansion "modest," while three reported "moderate" growth.
"The probability of a global recession is rising as news out of China gets worse," said Hugh Grieves, who runs the U.S. Opportunities Fund at Miton Group in London. "As each data point comes out, positive or negative, sentiment lurches from one extreme to the other very quickly."
The Chicago Board Options Volatility Index climbed 2 percent to 18.03, rising for a second day after snapping on Tuesday its longest stretch of declines in six years. The measure of market turbulence know as the VIX is down 26 percent this month after surging 34 percent in the third quarter.
Wal-Mart Drag
Consumer staples sagged on Wal-Mart's prediction of a decline in earnings next year, sending the discount retailer's shares down 10 percent to the steepest decline since 1988. Grocer Kroger Co. fell 3 percent. Target Corp. and Best Buy Co. slumped more than 3.5 percent to pace declines among consumer discretionary shares.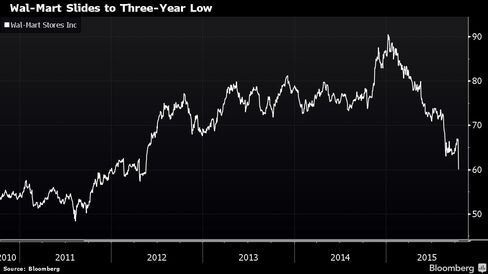 Banks in the S&P 500 had their biggest drop since a selloff on Sept. 28, with JPMorgan and PNC Financial Services Group Inc. losing more than 2.5 percent. U.S. Bancorp and KeyCorp slumped at least 2.2 percent before those banks report results tomorrow.
Expedia Inc. fell 4.9 percent after rival online travel agency TripAdvisor announced a partnership with Priceline Group that adds to TripAdvisor's instant booking service. TripAdvisor soared 25 percent, the most ever.
Industrial shares dropped 1 percent for a second day, led by a 4.3 percent retreat in Boeing Co. Delta Air Lines Inc.'s chief executive said the carrier is shopping for used long-haul jets, as a glut of wide-body models coming off leases is creating an "aircraft bubble."
The materials group climbed 0.9 percent, with pesticide maker FMC Corp. rebounding 6 percent. The shares lost 3.1 percent yesterday after the company cut its profit forecast. Newmont Mining Corp. gained 6 percent as gold remained near a three-month high. Energy shares rose 1 percent, despite oil slipping for a third day. Transocean Ltd. and Apache Corp. gained at least 2.4 percent.
Semiconductors jumped amid talk of deals. SanDisk Corp. soared 11 percent to a four-month high as people with knowledge of the matter said the chipmaker hired a bank to explore a potential sale of the business. Analog Devices Inc. climbed 8.8 percent, the most in six years after people with familiar with the matter said the company is in talks with Maxim Integrated products about a possible merger. The Philadelphia Stock Exchange Semiconductor Index added 3.8 percent to a two-month high.