21 Ways to Save Money on Transportation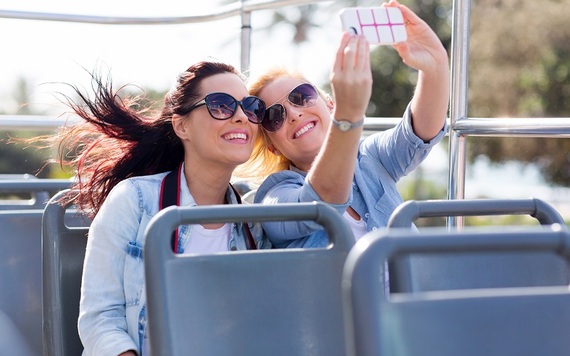 By Charlene Oldham, Contributor
Getting around on your own two feet is the least expensive, most environmentally friendly form of transportation. But it isn't always practical.
Here are 21 ideas on how to save money on transportation whether you're traveling by bike, bus, car, train, subway or plane.
Related: 4 Tips to Cut Your Monthly Car Costs
1. Clean out your car.
"Remove excess weight from your vehicle," said Karen Hoxmeier, owner of MyBargainBuddy.com. "An excess 100 pounds in the trunk can reduce your fuel economy by 1 to 2 percent."
The money you stand to save varies according to the make and model of your car. To calculate how much you can save by improving your car's average miles per gallon, you can visit FuelEconomy.gov.
2. Treat your car with a little TLC.
Getting a tune-up can improve gas mileage by up to 4 percent, according to Hoxmeier. Inflating your tires to the proper pressure can boost gas mileage by more than 3.3 percent, according to FuelEconomy.gov, and using the manufacturer's recommended grade of motor oil can maximize mileage by 1 to 2 percent.
3. Buy discounted gas gift cards.
"I recommend using sites like Gift Card Granny to purchase discounted gas cards," said Dawn Richardson, a travel blogger and co-founder of comusetravels.com. Sites such as Gift Card Granny and Cardpool are great places to snag discounted gas station gift cards, gift cards for automotive shops and even discounted gift cards for cruise companies and airlines.
Read: How to Save Money on Gas With These 7 Cards
4. Calm your driving habits.
Want to learn how to save gas while driving? Slowing down, limiting your acceleration and eliminating sharp stops can all help you save money on gas, according to research from Edmunds. If your cruise speeds range from 75 to 85 mph, and you constantly accelerate, change lanes and brake sharply, you can improve your fuel economy by an average of 35 percent by driving with cruise control set to 65 mph and calming down.
5. Roll your windows down.
When Edmunds' road testers rolled the windows down to test the effect on fuel economy for a 2007 Toyota Tundra, they logged some unexpected results. They found that this truck's fuel economy increased by 9.5 percent when the windows were rolled down at 65 mph. So, turning off the air and rolling down the windows might be worth trying on your own vehicle.
6. Take advantage of car insurance discounts.
Some car insurance companies offer lower rates for drivers with short commutes, retirees or students with good grades. Ask your insurance agent or company about these discounts as well as discounts offered to members of professional organizations or other groups.
7. Avoid toll roads.
If a free route is available, consider whether the time and distance you might save is really worth it, advises family travel veteran Meghan Khaitan. "Tolls can range from 10 cents to $4 in some parts of the country," said Khaitan, inventor of MyBuckleMate seat beat holders. "Set your GPS to avoid toll roads when mapping out your route. Consider the cost of added gas to use non-toll roads, and decide which route is more economical."
8. Download gas-saving apps.
"Use apps like FuelFrog to log your car's mileage between fill ups," said Maggie McCombs, content marketer at Creative Lodging Solutions. "On that note, GasBuddy.com will tell you where the nearest and cheapest gas stations are." While it might not be worth driving out of your way to get gas, savings can sometimes add up.
9. Look for local transportation incentives.
See if your city is offering incentives to encourage residents to carpool, take the train or purchase eligible "clean-air" vehicle.
For example, Santa Barbara Car Free is an award-winning project founded and led by the Santa Barbara County Air Pollution Control District. Its mission is "to encourage car free, carefree travel to and around Santa Barbara for cleaner air and a healthier planet" with the help of incentives and discounts. Santa Barbara Car Free is currently offering a 20 percent discount on tickets for the Amtrak Pacific Surfliner or the San Joaquin plus associated thruway buses to or from any Santa Barbara County station.
10. Invest in a bicycle.
Advances in two-wheeled technology have made getting around by bike more practical and easier than ever, according to Shel Horowitz, consultant and author of "The Penny-Pinching Hedonist."
"Newer developments in bike technology are quite dramatic, such as the ELF -- a pedal vehicle with solar assist, an enclosed cab, disc brakes, enough lockable storage for 12 bags of groceries, infinitely variable gear shifting and enough other cool features ..." he said. "That's not so cheap, but it's practical as a commuting vehicle."
11. Use metro cards.
Some big cities offer discounts if you pay in advance for public transportation and use the system's plastic fare cards. In Boston, for example, the CharlieCard stores value on a card and saves you money on subway and bus fares. For example, on the T train, you'd pay the standard T fare with a CharlieCard. But with a CharlieTicket, you'd pay the T fare plus a surcharge.
Watch: 5 Ways to Save With Public Transportation
12. Consider getting rid of your second -- or third -- car.
The average household spends 17.5 cents of every dollar on transportation, and 94 percent of that money goes to buying, maintaining, and operating cars, according to the American Public Transportation Association. The group's statistics show a household can save more than $10,100 a year by taking public transportation and living with one less car.
13. Look for online coupons for rental cars.
"Ultimately, consumers should seek out coupon codes when booking travel accommodations online to save extra money," said Kendal Perez, a savings expert with CouponSherpa.com. For example, CouponSherpa currently offers deals on Alamo rental cars, with one Alamo offer cutting $15 off a rental if you use a Visa to book the deal.
14. Optimize connecting flights.
Another way to save money on transportation: "Visit 'Jump Off' cities -- it's a two-for-one vacation," said McCombs. "Think DC and Baltimore -- Dallas and Fort Worth -- San Diego and Tijuana."
15. Consider multiple routes when booking flights.
"Try an indirect route with a stop-over," said McCombs. "An indirect flight is more time-consuming but much more cost-effective."
For example, a round-trip, non-stop Delta flight between New York City and Los Angeles departing New York's John F. Kennedy International Airport on Oct. 14 and returning on Oct.19 was recently offered on the airline's site for $347 while flights with one stop in either Detroit or Atlanta were listed for $304.
16. Consider bus tours for travel to out-of-the-way destinations.
"For the traveler without time constraints who doesn't want to drive ... taking a regional bus tour can be money saving and more comfortable than booking air travel to a destination that isn't easily reachable," said travel writer Cynthia Lynn.
17. Fly to a hub city.
Even if you aren't going to Atlanta, Detroit or Minneapolis, the savings you'll realize by flying to an airline hub city might make it worth the money and time it takes to rent a car or find another way to get to your ultimate destination.
"It's always best to take an airline carrier that maintains hub city flights closest to the destination, which means shorter flight time, competitive fares and viable convenient alternatives to get to the destination," said Lynn.
18. Shop for flights on Monday or Tuesday.
"Consumers should search for flights on a Monday or Tuesday morning after the airlines have processed demand for flights over the weekend," said Tom Spagnola, senior vice president of supplier relations for the online travel agency CheapOair. "Mondays and Tuesdays will typically return the lowest fares on the over 450 airlines that CheapOair partners with, which can be mixed and matched to find the best deal."
19. Plan your parking before heading out.
If you know you'll need to pay for parking at a special event, you can save time and money by reserving a spot in advance through sites like SpotHero. In just one example, a recent SpotHero search for parking near the Air and Space Museum in Washington, D.C., offered a price range of $12 to $20 for nearby options. SpotHero also allows users to search for deals on daily or monthly parking fees.
20. Carpool with co-workers.
Sharing a ride to work can reduce your transportation costs and carbon footprint, and there are technological tools that make carpooling possible even if you work for a tiny company with only a handful of other employees. Sites like CarpoolWorld and eRideShare can help you find other commuters headed your way no matter where you work.
21. Telecommute.
Working from home not only cuts your transportation costs, but it could save your company money, too. According to August 2012 data from GlobalWorkplaceAnalytics.com, a typical business would have saved $11,000 per person per year if those who were able spent half their hours on the clock working from home. To see how much teleworking could boost your budget, use this Employee Savings Calculator.
This article, 21 Ways to Save Money on Transportation, originally appeared on GOBankingRates.com.
More from GOBankingRates: